Dear user,
DigiFinex
new bee exclusive benefits are coming~ New users who register with DigiFinex after June 2 can get rewards for completing deposit and trading tasks. Make your digital currency trading journey more colorful, come and receive exclusive new bee gifts~, up to 100 dollars, the event prize pool totals $10,000 tokens, the number is limited, and rewards will be issued in the order in which users complete tasks.
Event time: June 2-June 23, 2023(UTC+8)
How to receive event rewards?
Step 1: Register.
Step 2: Click on the event page to learn about the details of the event rewards.
Step 3: Complete the deposit and trading tasks.
Step
4: Receive token rewards.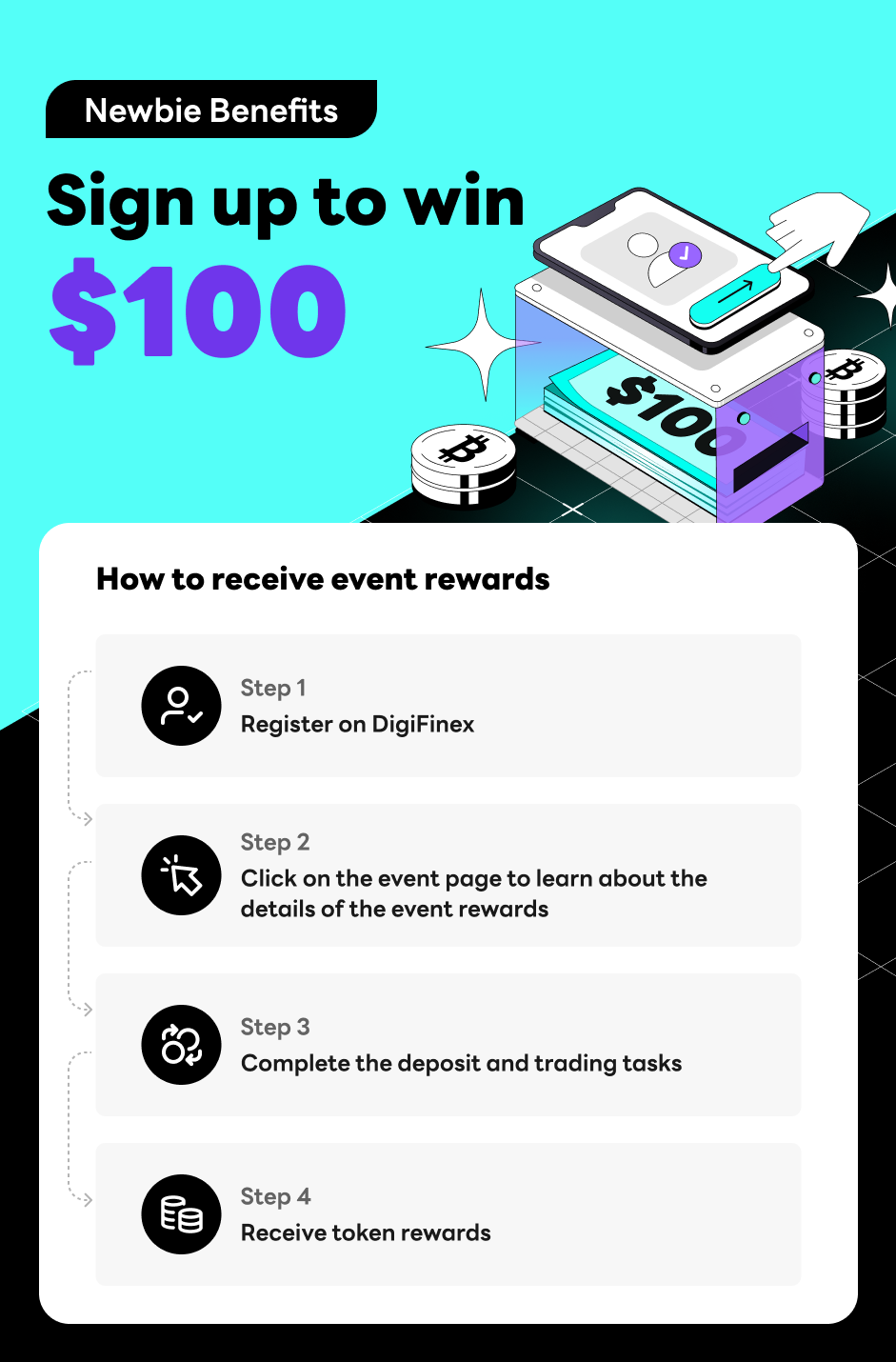 How to complete the tasks?
Token rewards

First spot trading ≥ 100USDT

First spot trading ≥ 500USDT
$3~$30
First spot trading ≥ 1000USDT
$5~$70

1.The higher the amount of your first deposit or trading, the higher the value of the candy you can receive, with a maximum reward of $100.


2.To be eligible for the deposit task rewards, during the event period, the user's net deposit amount (deposit-withdrawal) must be greater than or equal to the initial deposit task threshold.
Additional notes:
1. This activity is only available for new users who register after June 2nd, 2023. Each user can only use one account, and sub-accounts are not considered as independent accounts for participation in the activity.
2. The reward pool includes digital tokens such as BTC, ETH, and USDT, with a total of $10,000 worth of tokens. As the number of tokens in the reward pool is limited, the rewards will be distributed to the user's spot account in the order in which they complete the tasks.
3. Transfers or red packets within the platform are not considered as valid deposits.
4. Spot trading tasks include spot and margin trading. Trading volumes of stablecoin trading pairs such as USDC/USDT, BUSD/USDT, and zero-fee trading pairs are not included in the statistics.
5. Trading volumes generated from API trades are not included in the rankings.
6. Market maker and institutional accounts are not included in the rankings.
7. Any users who obtain rewards through fraudulent means, violate DigiFinex's risk control rules, or engage in cheating behavior will have their rewards deducted and their eligibility for the event canceled. Serious offenders may face account suspension or other measures.
8. During the event, any malicious activity, such as creating multiple accounts, self-trading, or colluding, will result in disqualification and no rewards will be given.
9. DigiFinex reserves the right to interpret the event and make the final decision. If you have any questions, please contact our customer service.
Thank you for your support!
DigiFinex Team
June 2nd, 2023
DigiFinex communities
Telegram Activity Airdrop:https://t.me/DigiFinexAirdrop365
Telegram Official Community:https://t.me/DigiFinexEN
Telegram AMA Community: https://t.me/DigiFinexAMA
Official Twitter: https://twitter.com/digifinex
Official Facebook:https://www.facebook.com/digifinex.global
Official Instagram:https://www.instagram.com/digifinex.global
Official Medium: https://medium.com/@digifinex
Official Reddit: https://www.reddit.com/user/DigiFinex/

DigiFinex (digifinex.com) DIGIFINEX LIMITED reserves all rights of this event, including but not limited to adjustment, explanation, and termination at any time.