Dear users,

DigiFinex is excited to announce our May 24th, 2023 Live AMA is coming soon! It's our pleasure to invite the guest of Wiki Cat, Sir Mappy, to share with us his insights on Wiki Cat - How Wiki Cat helps teach people about cryptocurrencies.

About Wiki Cat Token (WKC) (https://wikicatcoin.com/)
Wiki Cat is a tutorial token with a unique deflationary mechanism created by Sir Mapy for SMC DAO. With ownership of the token renounced to a strong and vibrant community, the goal of the project is to establish a NFT focused club (Wiki Cat Club), where users can hold, buy and sell unique NFTs in a P2P way.

Live Date and Time: May 24th, 2023, Wednesday 9:00 UTC
Venue: Digifinex Twitter Space
https://twitter.com/DigiFinex

# Live Activity Rewards
1. Follow & Retweet to Share Token Worth of 100 USDT Airdrop
To participate in this event, users should finish the following tasks via this page:
https://gleam.io/s7Xf6/digifinex-x-wiki-cat-ama-500-wkc-up-for-grab
Task:
- Retweet and tag three friends, @DigiFinex @WikiCatCoin Twitter. Submit your DigiFinex UID to get a chance to win.

2. AMA Red Pocket Reward: $300 WKC will be shared among 100 Red Pockets and will be airdropped to our audience via DigiFinex App during the Live AMA session.

3. Learn to Earn: $100 WKC will be shared among 5 listeners who ask questions during the Twitter Space AMA.

Period: May 23rd 2023 10:00(UTC) – May 24th 2023 12:00(UTC)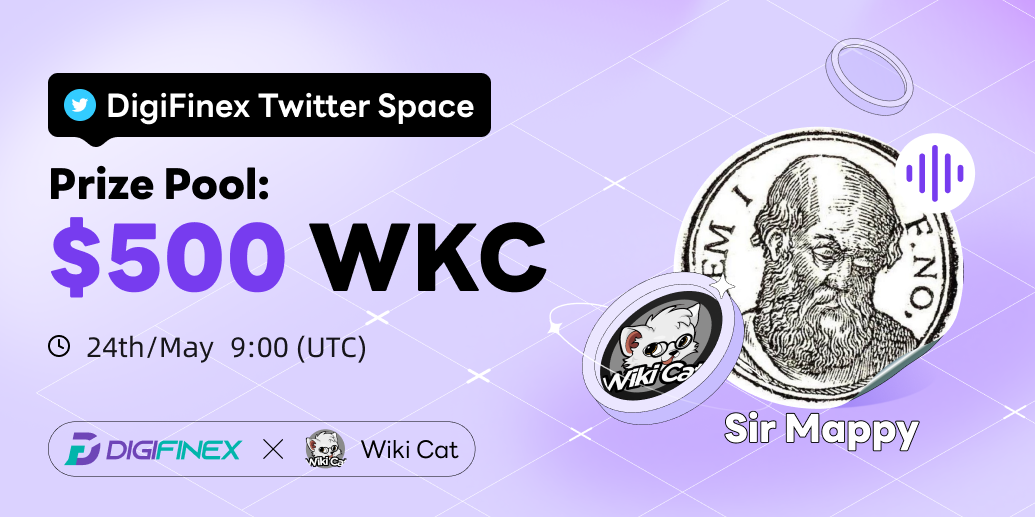 PS: Rewards will be deposited to the respective users' accounts within 14 working days after the event has ended. All users would NEED to complete a compulsory KYC procedure, before collecting rewards within 5 days. Any user who has expired this timeframe would be seen as giving up the reward.

Thank you for your support!

DigiFinex Team
May 23nd, 2023

DigiFinex communities
Telegram Activity Airdrop:https://t.me/DigiFinexAirdrop365
Telegram Official Community:https://t.me/DigiFinexEN
Telegram AMA Community:https://t.me/DigiFinexAMA
Official Facebook:https://www.facebook.com/digifinex.global
Official Twitter:https://twitter.com/digifinex
Official Instagram:https://www.instagram.com/digifinex.global
Official Medium:https://medium.com/@digifinex
Official Reddit:https://www.reddit.com/user/DigiFinex/

DigiFinex (digifinex.com)DIGIFINEX LIMITED reserves all rights of this event, including but not limited to adjustment, explanation, and termination at any time.