Dear users,

Dream Concert is Korea's longest-running, largest-scale performance by top K-POP stars and is the first single concert to be held 28 times in a row. This is known to be the K-POP concert that fans all over the world are looking forward to the most.

This year's lineups have been announced. We have BTOB, ITZY, NMIXX, OHMYGIRL, BB Girls, Kim Jae Hwan, Kim Tae woo, Mirae, Everglow, Dream catcher, Tempest, TAN , Drippin, Golden Child, Just B, JO1, Nine.I, Lapillus and Oneus.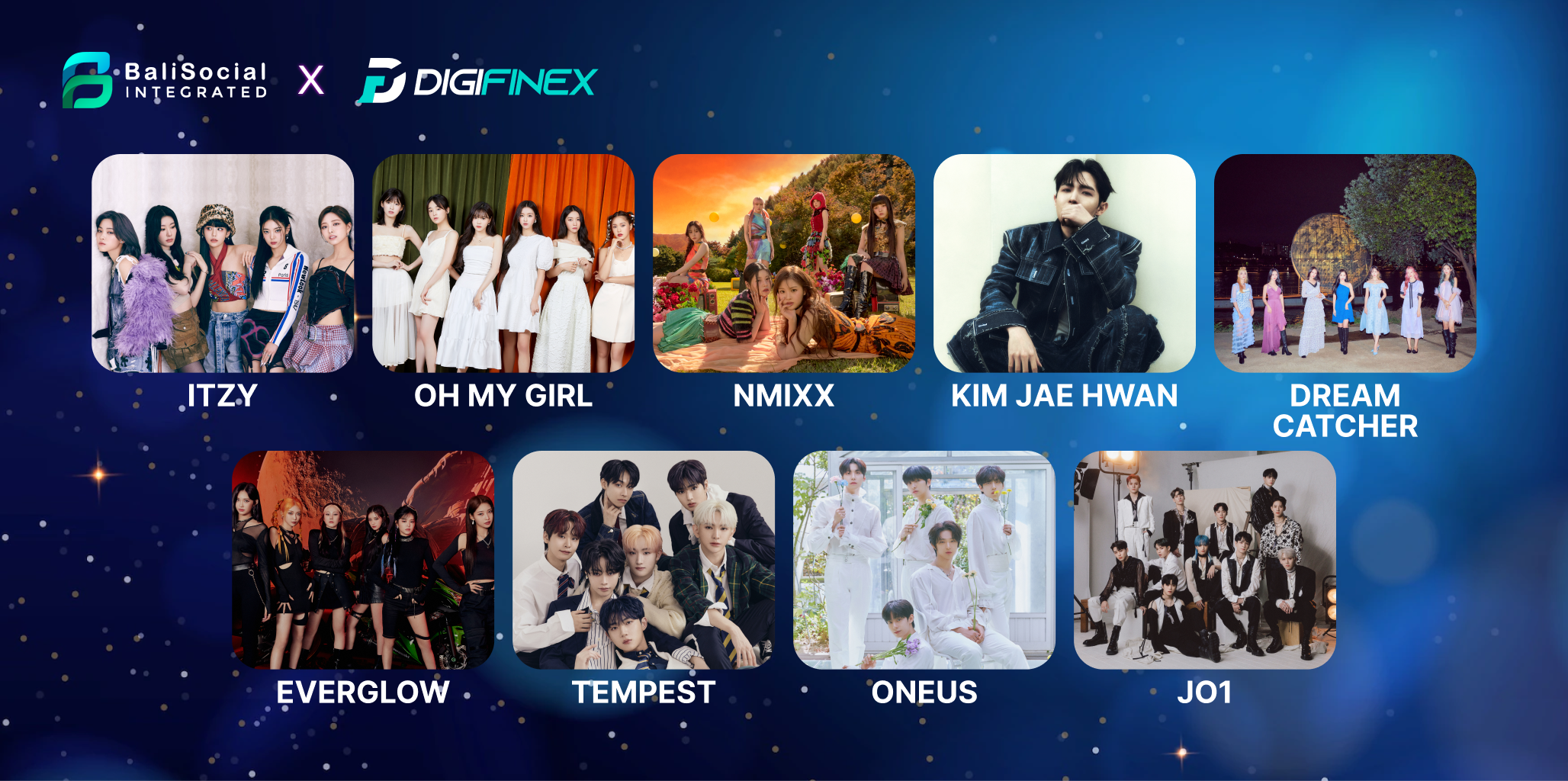 DigiFinex users can enjoy a 50% discount on ticket purchases and have a chance to win signed CDs from the artists.
You can now purchase BSI tokens through DIGIFINEX and exchange them for Dream Concert tickets on the event page .

To receive the discount, simply buy BSI according to the stated amount and you'll automatically receive a 50% discount, bringing the price down to $2.5.

Other from that! We would like to announce our newest event of:
Random Signed CDs of the Artists participating in the 29th K-POP DREAM CONCERT!

<< All users who purchase the BSI token through DIGIFINEX and buy the Dream Concert ticket, will be automatically be a part of this event.>>

Starting date: May 18th 2023 – May 25th 2023
Total Winners: 5 People
Announcement of Winners: May 26th 2023 (Friday)

Winners will be contacted separately.

**Please note that once you have been selected as a winner, cancellations and refunds of online tickets are NOT POSSIBLE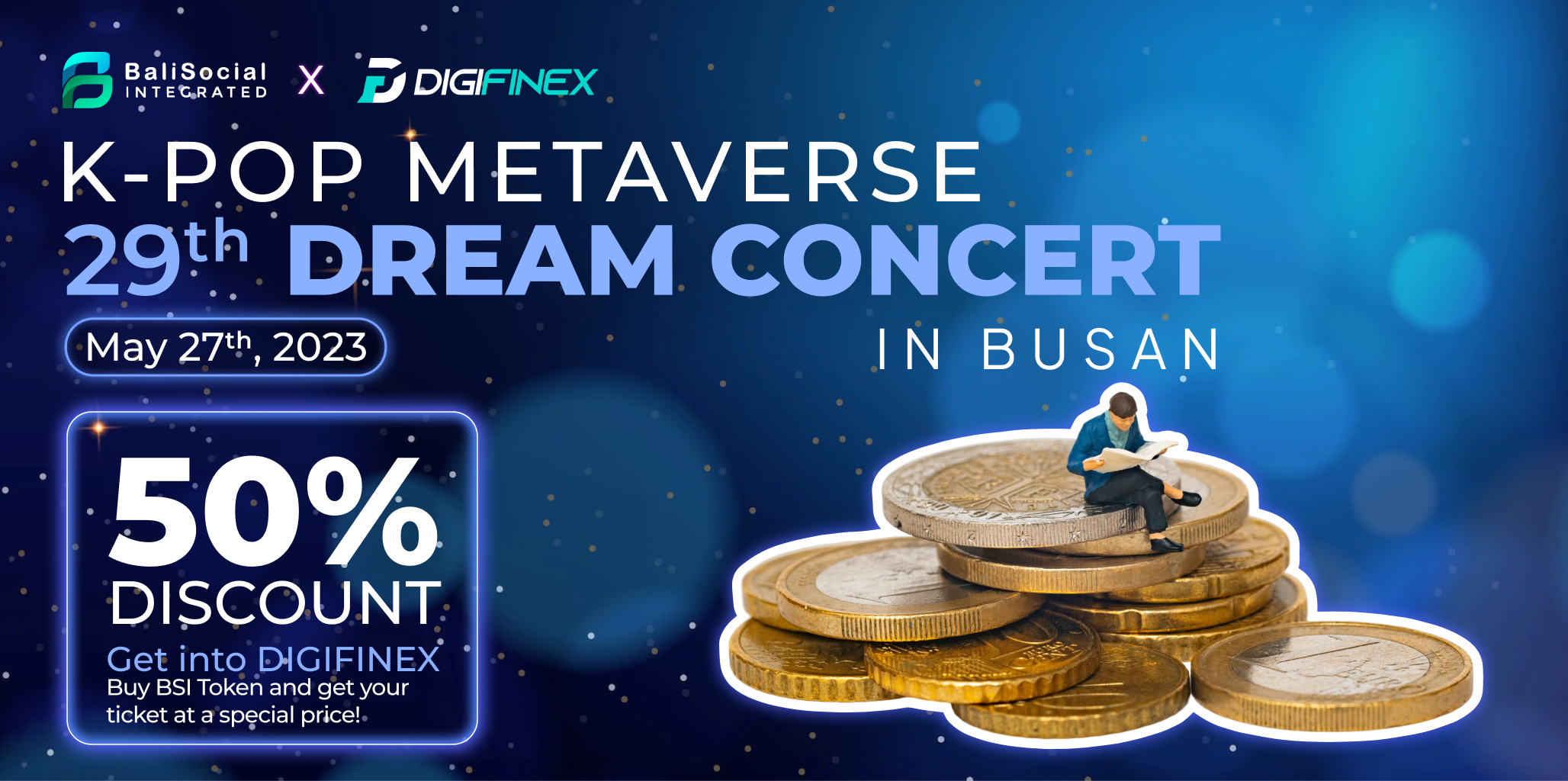 The process is simple:
1. Register in DIGIFINEX
2. Insert User UID, Email, and Password and click Exchange
3. Enter the code sent to your email
4. After the registration is completed, purchase BSI according to the number of tickets.
5. Transfer / Send the purchased BSI to the BSI Event Account UID
6. Click the Confirmation button and insert your User UID, TxID, and Payee code
* Only for users who have set to receive the payee code
7. Register your ticket number that is sent sequentially in LAVATA

*Please note that this event will end on May 25th

BSI Event page: https://enbsi.com/en/bsi-dream-concert-event

BSI (Bali Social Integrated) has a motto of "Eco-Friendly" therefore, currently in the progress of conducting a K-POP Dream Concert without using paper tickets and reducing the transportation fuels in a real-time online live streaming way wherein all K-POP fans around the world could participate and enjoy at the same time.


So don't hesitate and Get into the BSI X K-POP Dream Concert telegram community and get the fastest updates!

Download DigiFinex APP: https://www.digifinex.com/en-ww/download
Official Register link: https://www.digifinex.com/en-ww/from/C9JT9c?channelCode=ljaUPp

DigiFinex Team
March 28th, 2023

DigiFinex communities
Telegram Activity Airdrop:https://t.me/DigiFinexAirdrop365
Telegram Official Community:https://t.me/DigiFinexEN
Telegram AMA Community: https://t.me/DigiFinexAMA
Official Twitter: https://twitter.com/digifinex
Official Facebook:https://www.facebook.com/digifinex.global
Official Instagram:https://www.instagram.com/digifinex.global
Official Medium: https://medium.com/@digifinex
Official Reddit: https://www.reddit.com/user/DigiFinex/

DigiFinex (digifinex.com) DIGIFINEX LIMITED reserves all rights of this event, including but not limited to adjustment, explanation, and termination at any time.