Dear Users,

Project name: Sui (SUI)
Total SUI available: 100,000
Official website: https://sui.io/#

Token introduction:
Sui is a first-of-its-kind Layer 1 blockchain and smart contract platform designed from the bottom up to make digital asset ownership fast, private, secure, and accessible to everyone. Its object-centric model, based on the Move programming language, enables parallel execution, sub-second finality, and rich on-chain assets. With horizontally scalable processing and storage, Sui supports a wide range of applications with unrivaled speed at low cost. Sui is a step-function advancement in blockchain and a platform on which creators and developers can build amazing, user-friendly experiences.

How to Earn?
Activity
Subscription Time
(UTC)
Lucky draw Result Release(UTC)
Base Token
Release amount
Price
(USDT)
Subscription Conditions
Discount (Buy SUI at 50% off)
2023/5/5 4:00-2023/5/12 4:00
2023/5/15 10:00
USDT
100,000
50% of the market price
1. Account's fund ≥100 USDT

2. Previously traded >500 USDT in DSUI.
Discount (Buy SUI at 20% off)
2023/5/5 4:00-2023/5/12 4:00
2023/5/15 10:00
USDT
100,000
80% of the market price
1. Account's fund ≥100 USDT

Lucky draw rules:
An electronic lucky draw number will be allotted to each participant in every subscription.
The possibility of winning the lucky draw can be increased by sharing your exclusive share link and inviting your friends to click your link, register, or deposit in DigiFinex.
How to participate?
Click the image below to jump to the subscription page: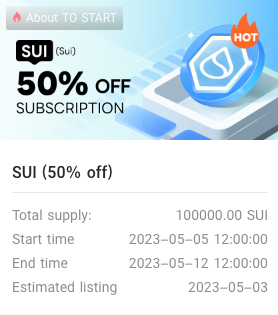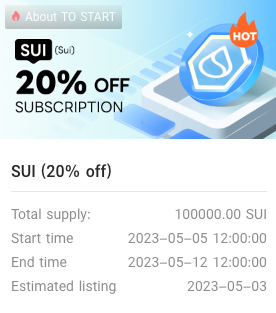 Download DigiFinex APP: https://www.digifinex.com/en-ww/download
DigiFinex Official Register link: https://www.digifinex.com/en-ww/from/C9JT9c?channelCode=ljaUPp

Risk Alert: This is a new token project that poses higher risks than others which will face potential high price volatility. Please ensure you have done your own research in regard to the fundamental concepts and fully understand this project before opting to trade. DigiFinex will make the best efforts to list high-quality token projects but will not be responsible for any of your trading losses.

Thank you for your support!

DigiFinex Team
May 5th, 2023

DigiFinex communities
Telegram Activity Airdrop: https://t.me/DigiFinexAirdrop365
Telegram Official Community: https://t.me/DigiFinexEN
Telegram AMA Community: https://t.me/DigiFinexAMA
Official Facebook: https://www.facebook.com/digifinex.global
Official Twitter: https://twitter.com/digifinex
Official Instagram: https://www.instagram.com/digifinex.global
Official Medium: https://medium.com/@digifinex
Official Reddit: https://www.reddit.com/user/DigiFinex/

DigiFinex (digifinex.com) DIGIFINEX LIMITED reserves all rights of this event, including but not limited to adjustment, explanation, and termination at any time.