Dear users:

The 29th K-POP Metaverse Dream concert in 2023 held by BSI (Bali Social Integrated) will start on May 27, 2023. DIGIFINEX users can purchase tickets for the real-time online live at a 50% discount.

BSI (Bali Social Integrated) has a motto of "Eco-Friendly" therefore, currently in the progress of conducting a K-POP Dream Concert without using paper tickets and reducing the transportation fuels in a real-time online live streaming way wherein all K-POP fans around the world could participate and enjoy at the same time.

Metaverse Liveconcert platform LAVATA Teaser

Dream Concert is Korea's longest-running, largest-scale performance by top K-POP stars and is the first single concert to be held 28 times in a row. This is known to be the K-POP concert that fans all over the world are looking forward to the most. All-time previous lineups were BTS, BIGBANG, EXO, NCT DREAM, RedVelVet, aespa, OH MY GIRL, IVE, PENTAGON, AB6IX, and many others. Therefore, we expect the best groups to be a part of this time as well. (Casts to be announced later)

ALL DIGIFINEX users can purchase the BSI tokens through DIGIFINEX and exchange them for Dream Concert tickets on the DIGIFINEX event page (that will be opened later) and receive a 50% discount.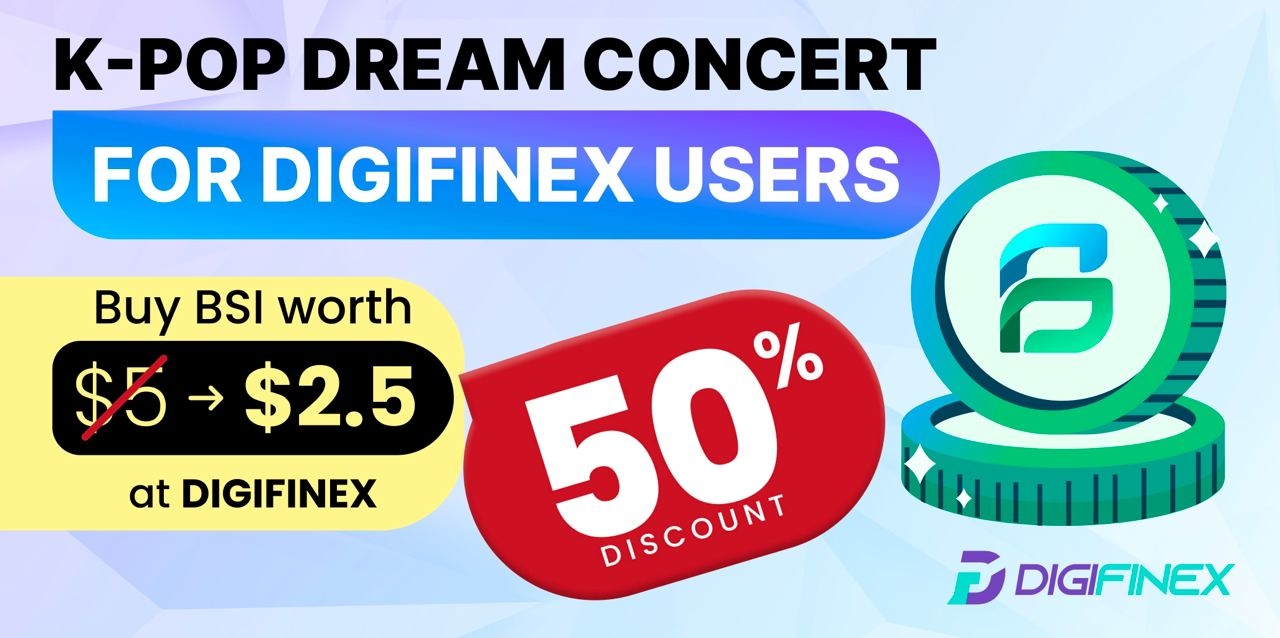 The exact date of this event will be announced in the nearest future. Stay tuned!

Get into the BSI X K-POP Dream Concert telegram community and get the fastest updates!

Download DigiFinex APP: https://www.digifinex.com/en-ww/download
Official Register link: https://www.digifinex.com/en-ww/from/C9JT9c?channelCode=ljaUPp

DigiFinex Team
March 14th, 2023

DigiFinex communities
Telegram Activity Airdrop:https://t.me/DigiFinexAirdrop365
Telegram Official Community:https://t.me/DigiFinexEN
Telegram AMA Community: https://t.me/DigiFinexAMA
Official Twitter: https://twitter.com/digifinex
Official Facebook:https://www.facebook.com/digifinex.global
Official Instagram:https://www.instagram.com/digifinex.global
Official Medium: https://medium.com/@digifinex
Official Reddit: https://www.reddit.com/user/DigiFinex/

DigiFinex (digifinex.com) DIGIFINEX LIMITED reserves all rights of this event, including but not limited to adjustment, explanation, and termination at any time.